WELCOME TO KA9EGW.COM
THE ONLINE HAMFEST TABLE [AND POLITICAL SOAPBOX] OF AMATEUR RADIO STATION KA9EGW
-- THE COOLEST RADIO JUNQUE EVER!!—
[COLLINS—JOHNSON—DRAKE—NATIONAL—HAMMARLUND—HALLICRAFTERS—YOU NAME IT—ALWAYS CHANGING AS THE CLEANUP GOES ON]
So…here we are.  First, the obligatory page of rhetoric.  I have a pile of boatanchor stuff I got for way too cheap to let it go by, and too expensive to justify keeping.  Gotta love this economy, eh?  I just couldn't let this stuff go to landfill, and I overextended the hell out of myself [and ended up in the trick bag with the XYL] to keep it in ham hands.   ON THAT NOTE I WILL NOT SELL A TRANSMITTER TO YOU IF I CAN'T FIND YOU IN A CALLSIGN DATABASE.  CBERS AND FREEBANDERS ARE INVITED TO GET LICENSED [LET ME KNOW IF I CAN HELP] AND GET BACK TO ME.  EVERYTHING YOU NEED TO KNOW TO GET LICENSED IS AVAILABLE AT http://www.arrl.org/ BUT IF YOU NEED HELP GETTING LICENSED MY EMAIL LINK IS FARTHER DOWN THE PAGE…
I will not mercilessly gouge anyone because I *don't* need the karmic debt that goes with it and it would be contrary to the spirit of the various Amateur Radio email reflectors whose members have been so helpful to me, but at the same time like I said I way overextended myself and I need to at least break even [so please don't try to offer a price "shipped" that wouldn't even cover shipping…sadly, it has happened] although I will go 100 road miles from 53585 to meet up, and 50 cents a mile after that, as calculated by Google Maps.  I can ship this stuff, on your dime…add $10 per piece for the cost of new boxes for double-boxing.  If you think that's a gouge, it's NOT; go to http://www.mcmaster.com/, or to http://www.uline.com/ and look up box prices [the double wall ones] and realize I paid WAY more than $10 for packaging if I'm shipping it to you.
HOW TO BUY: Email me telling me you want it, or making an offer, and we'll go from there.
Or just throw me an email to rag chew.
THIS PAGE IS IN NO WAY INTENDED TO IMPLY I THINK EBAY COMPLETED-LISTINGS HISTORY REALLY REFLECTS THE TRUE VALUE OF THIS STUFF.  I'M AN ENGNEERING TECHNICIAN, NOT A SALESMAN.  PRICES ARE BASED ON HISTORY ON EHAM.NET, SWAP.QTH.COM, EMAIL-REFLECTOR HAMFEST REPORTS, BEST OFFERS RECEIVED, AND "COOL FACTOR" [WHICH IS PURELY SUBJECTIVE J].   "NO REASONABLE OFFER REFUSED" IS ALWAYS IMPLIED AND THAT BARTER OFFERS WILL *NOT* GET THE CONTEMPT-PRIOR-TO-INVESTIGATION ROUTINE [HINT: MY 'WANT' LIST IS AT THE BOTTOM OF THIS PAGE J]
PRICES WILL BE ADJUSTED UPWARDS AS THE AMOUNT OF TIME I HAVE IN EACH UNIT INCREASES AND ITS CONDITION IMPROVES.  I INVITE OFFERS ON MULTIPLE PIECES OR THE WHOLE REMAINING UNSOLD LOT…I DO KNOW HOW TO REFURBISH BOATANCHORS, DONE QUITE A FEW IN MY DAY, BUT THESE DAYS I'D RATHER JUST POUND BRASS...
VETERANS: 10% DISCOUNT FOR HONORABLY-DISCHARGED
[SERVICE-CONNECTED DISABILITY?  EMAIL FOR FURTHER DISCOUNT]
About the veteran thing: if I manage to sell more than break-even point then excess proceeds will go to the Veterans Of Foreign Wars National Home.  My R-388 was a Christmas 1980 gift from my Dad, E-4 H. J. Sherwood, U. S. Army 1943-46, my wife's an honorably discharged Army vet, almost all my friends are vets, my great-uncle Leo was in the first wave ashore on Iwo Jima, most of my extended family have things in their history with names like Flanders, Pearl Harbor, Normandy, Chosin and Khe Sanh, I was a member of the Sons Of The VFW for many years, and dirt-bag anti-vets-rights pro-socialist scum, can quit reading here and go to http://www.ilovehanoijane.com/ or some other such total waste of bandwidth of that sort...
<rant> 25% SURCHARGE FOR PAYPAL--I'VE NEVER HAD ANYONE HANG PAPER ON ME, BUT I'VE BEEN BURNED VIA [AND BY] PAYPAL MANY TIMES.  I DON'T NEED ANYONE'S MONEY THAT BAD…IF I DID THE STUFF WOULD BE ON THAT AUCTION PLACE </rant>
OK, GOT THAT OUT OF THE WAY, NOW ON TO THE RADIO GOODIES:
UNDERGOING REFURBISHMENT:
[1] Heath HA-10 "Warrior" kw amp awaiting of delivery of matched 811's, panel pretty good, cabinet needs paint, boy those 866's are purty! Gave indicated 800 watts out on 80 @ 120mA Ig.  These were measured running on 120V with a Bird 43, 1kW slug, an old Cantenna, and driven by a Drake T-4XB running 300mA Ip.   As noted below, my Bird meter reads 50W at a known 100W out of my ricebox at the low end of the scale with the 1kW slug.  Buy it for $400 now [before I start cleaning, paint the cabinet and figure out a T/R relay arrangement…J].  Then one of the 40-year-old tubes shorted grid-to-plate and burnt up a metering resistor [close-tolerance replacement en route].
<![if !vml]>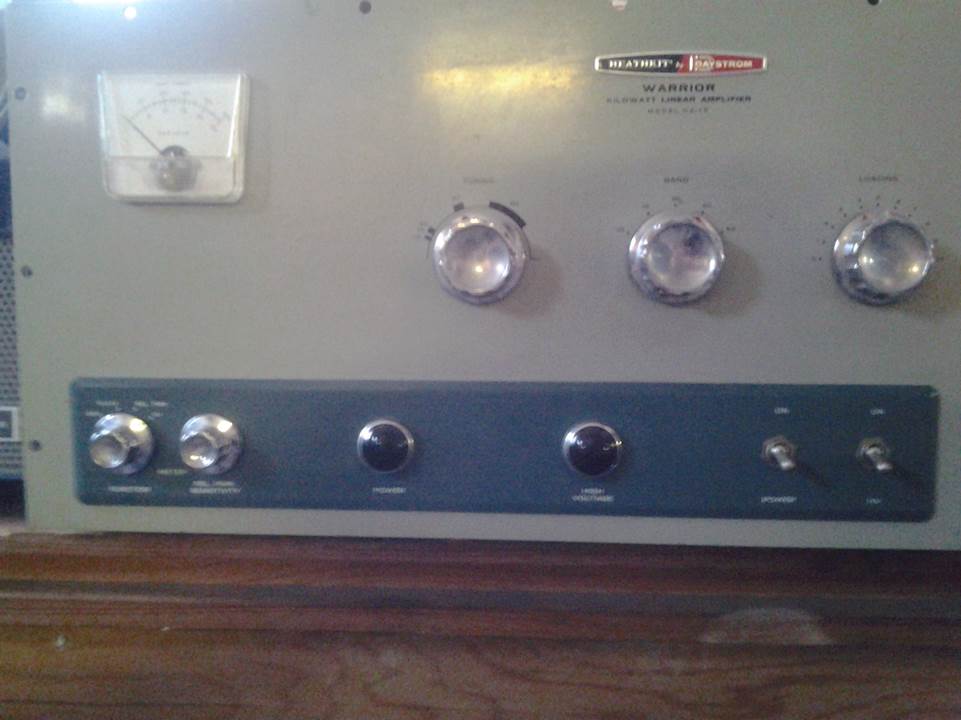 <![endif]>
<![if !vml]>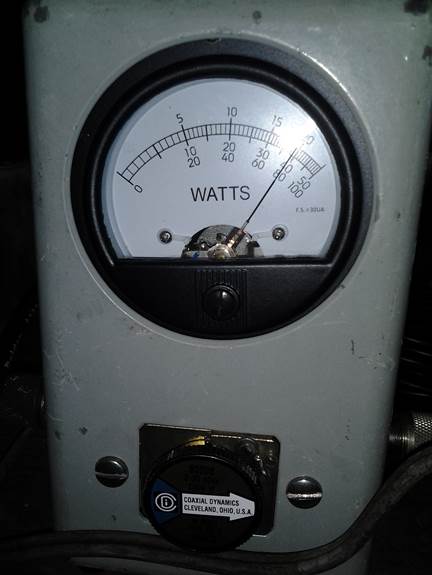 <![endif]>
STILL UNTESTED [yes I'm getting buried again]:
[2] Viking II; 6146's, untested $275 as-is
[3] An SB-220, cosmetics VERY decent, previously butchered to likely 6 meters, iron good, input and tank circuit implants included, have parts, ready soon well, ok, someday…$700 OR $525 as is.
[4] Ten Tec 1208 6m transverter.  $100.
[5] R-390A, not the one previously listed, works but needs TLC.  EAC I *think*.  It's buried under other stuff at the moment.  Came with spare IF deck, spare NOS 4kc filter, pile of spare toobs, has OEM line VU meter and some cheesy replacement S-meter…$350 as is.
PARTS IS PARTS
[6] I got a butt load [5 Priority-Mail-large-size boxes' worth] of small air variables, single/dual/triple/split stator/etc; e-mail your needs and I'll see what I got.
[7] Couple of 872's.  Make me a "neither-side-gets-gouged" offer.
[8] Half a dozen or better 866's; the HA-10 now has 3B28's…
[10] Couple old RCA 811's and one NEW Penta 811.  NOT a matched trio.
[11] A pile of BA books, old ARRL Handbooks, air variables [including some 7kV-plus], and a bucketful of knobs I haven't photographed or listed yet.
AND LASTLY, MY EVER CHANGING "WANT LIST"
[12] ft-243 crystals for Novice Rig roundup
COMING SOON
[13] Drake T-4XB with AC-4.  Will know more when it gets here.